Invest In Your Office Space For Better Productivity
There's no getting away from the fact that your environment can have an impact on your mood and your ability to work. Therefore, if you're a business owner with the responsibility of team members who work in an office space; you'll need to ensure that you've done everything you can to make it a productive environment. Taking care and invest in your office is a sure fire way to to look after those working hard for your business, and you'll reap the rewards regarding meeting and exceeding your targets. Putting time and money into your team's space with pay off in the long run, and everyone who works in your company will feel appreciated, which will boost motivation and momentum.
Not every office design needs a major budget; you can can make some significant changes with a smaller budget, and even small improvements can lead to a huge improvement to an interior space. Therefore, it's time to write a list of the areas that could use a boost in your office space, and how things can be improved so that work can continue efficiently. The following are some ideas, inspiration, and advice for those who need to improve and upgrade their office environment, for happier team members and a boost in productivity for their business.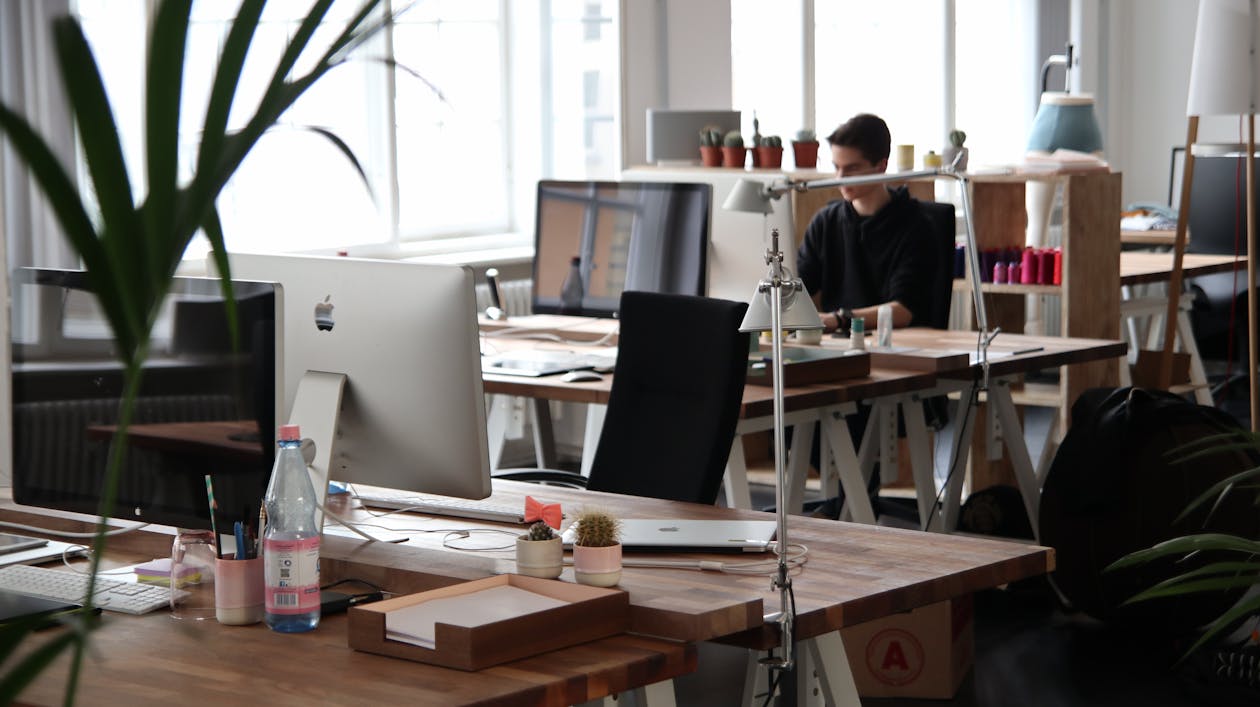 Image source: https://www.pexels.com/photo/adult-business-computer-contemporary-380769/
Clean And Fresh Facilities
It's crucial that your employees feel like they have somewhere pleasant to go about their day. They can't work the whole time they're in the office, and will need somewhere to have a break at various times. Therefore, there needs to be clean and fresh kitchen and bathroom facilities so that your team don't dread using them in their free moments. A fresh coat of paint or new tiles can work wonders, and are an affordable way to update a room. Invest in new hand dryers, toilet seats, and soap dispensers in the office bathroom, and get a new kettle, toaster, and coffee machine for the kitchen area. Little changes like this will give both the environment and your employees a much-needed boost.
Think About Light And Space
If your team feel cramped; their thoughts and creativity can become stifled and stagnant. Therefore, it's wort ensuring that as much natural light floods your office as possible, and the room is well-lit, without the use of headache-inducing strip lights. Make sure that everyone has adequate desk space and comfortable seating; you want people to look forward to the time they spend working at their desk, so make it as appealing as possible so that heavy work loads are made that little bit easier. Little touches like plants, artwork, and personal items should all be encouraged; you don't need to over clutter the environment, but give it some interest and character to lift the spirits of everyone working there. The more time and effort you invest in the office surroundings, the more energy your business will have, and productivity will be given a huge boost; therefo